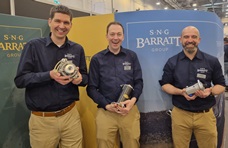 A pleasure to meet the guys from SNG Barratt in Europe at the recent Techno Classica show in Essen! SNG have three European depots, based in Germany, Netherlands and France and all offering comprehensive coverage for classic car parts.  

SNG have always been hugely supportive of the Powerlite range and 2022 promises to be a huge year for both companies. Big expansion plans are in place for both Jaguar and a new "all makes" programme.

Watch this space for more news on this exciting expansion!