Powerlite "Multi-Mount" Alternator RAC068 - the number one choice of the top racing teams in the UK
Built using the base unit of a Denso alternator and weighing in at a miniscule 3.0 kg, the unique Powerlite "multi-mount" alternator kicks out 50 amps and has been designed by us to the exact pattern and size of a traditional Lucas ACR type alternator.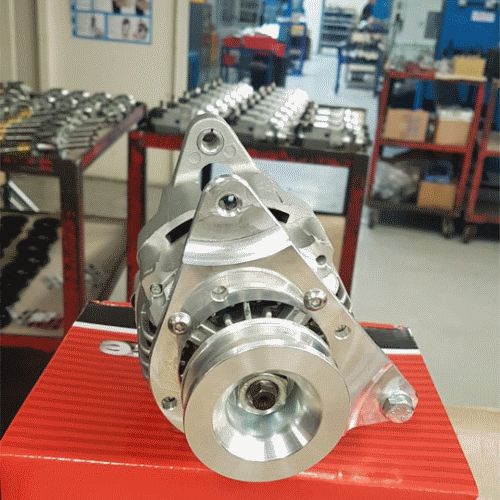 As with all of our Powerlite units, the "multi-mount" alternator has been designed, tested and built by skilled auto electricians at our plant in the UK. Built to withstand vibration and engine harmonics, this unit will deliver maximum performance with minimum efficiency. We only use OE rated components, including the best quality regulators and, of course, NSK C3 Auto Grade bearings.
With an easily adjustable adaptor plate, the alternator can be mounted on either side of an engine, so it's suitable for Ford BDA, Pinto, X - Flow and A series engines such as A + B series BMC and BL types, along with Rover V8. It's compact, lightweight design, coupled with twin rotor fans to draw the air through the unit for extra cooling, make it perfect for race engines where space is a premium.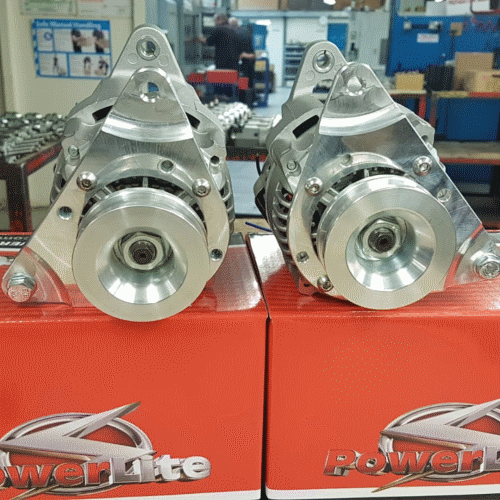 A bigger 100mm pulley version is also available for situations where you need to slow the unit down, and full fitting kits for dynamo to alternator conversions.
Give us a call for more details - 01384 261984.